Private Cloud Suites: Full VMWare Private Cloud Out-of-the-Box
Private Cloud Suites are scalable dedicated cloud infrastructure plans with everything for organizations to launch and run an isolated private cloud cluster on the Internet. The Private Cloud Suites are a best of breed "ready to go" solution that combines high-performance physical servers and appliances with the powerful and highly configurable VMware Essentials Kit suite (license sold separately). The result is a private cloud cluster of dedicated physical hardware in an isolated network, hosted in our Tier-3 Singapore data center.


Private Cloud Suites allow you to pool computing and storage resources across multiple physical hosts, delivering improved service level and operational efficiency, all within a secured network on the Internet. Running the world-renowned VMWare Essentials Kit suite, which comes with vSphere ESXi hypervisors and vCenter console management server, the highly popular web-based vSphere client management tool which comes with it is known to be very configurable and intuitive, making it an attractive choice for companies that are adopting private cloud networks.
VMWARE PRIVATE CLOUD SUITES WITH VMWARE VSPHERE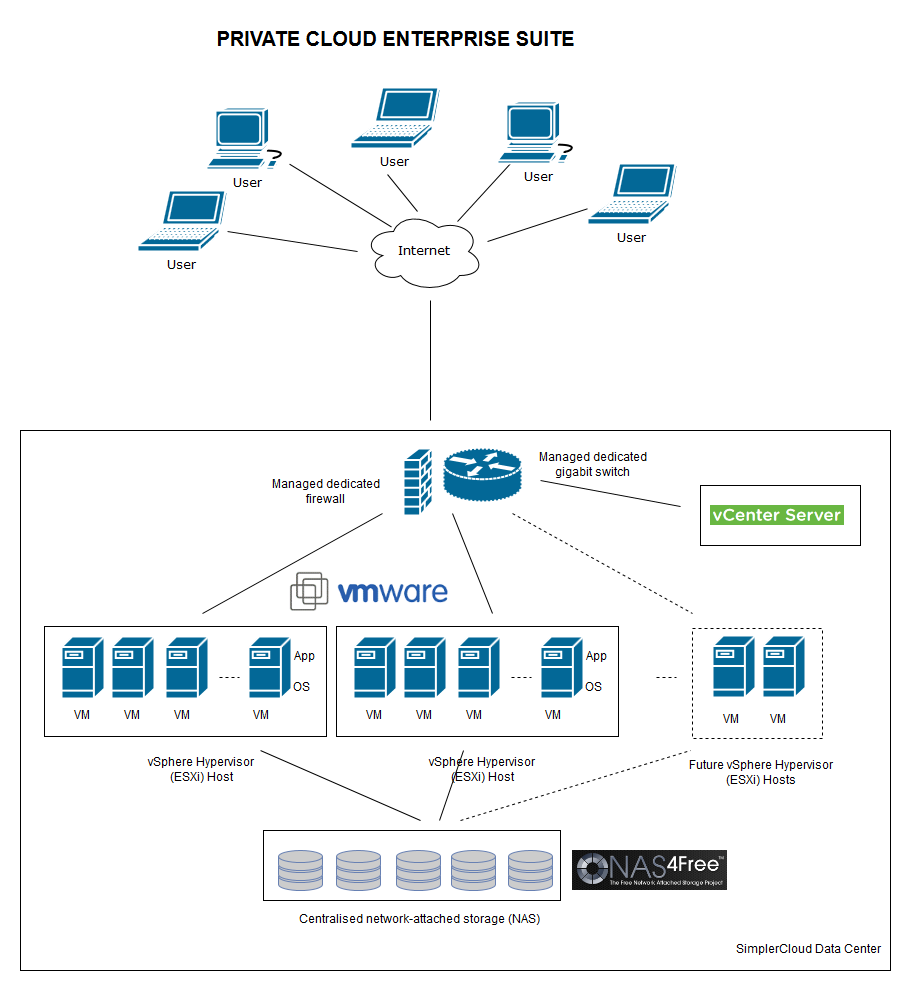 Features at a Glance
Scalability: Add computing resources horizontal by adding new hypervisor servers without affecting existing operations.
Easy Management: A centralised control panel allows management and administration of the whole private cloud cluster infrastructure from a single location. It also provides essential data center services such as access control, performance monitoring and alarm management.
High Availability: (with the Enterprise plan) – With a centralized network area storage (NAS), a high-availability cluster can be created so that when a hypervisor host is down or experiencing technical issues, all the affected VMs will be automatically restarted on other available hosts.
Live Migration: With a centralized NAS, it's also possible to do live migration of VMs between hosts, allowing full optimization of the whole cluster's resources and perform hardware maintenance without affecting business operations.
Private Cloud Suite Plans


PRO
With the Private Cloud Pro Suite, users can host and manage up to 60 Virtual Machines on a pool of computing and storage resources on private physical infrastructure that is dedicated to their organization. Pro Private Cloud Suites come with VMWare vSphere server virtualization, and centralized management with vCenter Server.

The Pro Private Cloud Suite is very scalable and more hypervisor hosts can be added very easily. The managed dedicated firewall suite isolates the private cloud from the Internet and other clusters within the SimplerCloud network. Pro Private Cloud Suites come with a total of 32 GB of RAM and 2TB of usable storage space to start with, allowing you to host up to 15-30 VMs per host, or up to 60 VMs for the whole cluster, depending on the RAM, CPU and storage requirements per VM.

This plan comes with:
2 X VMWare vSphere Hypervisor servers (additional hypervisor servers can be added)
1 X vCenter Management Console server
1 x Managed dedicated firewall





ENTERPRISE

The Private Cloud Enterprise Suite allows users to run mission-critical applications on a private cloud with minimum downtime. In addition to all the features of the Private Cloud Pro, the Enterprise Suite deploys a centralised storage server, seperate from the hypervisor servers, allowing the private cloud to have two additional advanced features: high availability and live migration.

With the data stored on a centralised storage server, the private cloud has built-in high availability failover – when one physical hypervisor host is down, all the affected VM within the host will automatically be restarted on other available hosts, minimising the downtime to the VMs. You can also perform live migration of VMs between hypervisor hosts without any downtime, which will be useful if you need to perform maintenance on any of your hypervisor hosts without affecting your business operations.

The centralised storage server is built on NAS4Free open-source network attached storage, using ZFS – a combined file system and logical volume manager with built-in protection against data corruption. In addition to the firewall, a managed dedicated gigabit switch is also used for the connection between the hypervisor hosts and the storage server. Private Cloud Enterprise Suites can host up to 120 VMs and comes with 64 GB RAM and 3 TB storage.

This plan includes:
2 x VMWare vSphere Hypervisor servers (additional hypervisor servers can be added)
1 x vCenter Management Console server
1 x dedicated NAS storage (3TB usable space for a start, more can be added)
1 x Managed dedicated firewall
1 x Managed dedicated gigabit switch

Price Schedule
Add-Ons
Add additional servers or computing resources: see prices here.
Features At a Glance
Manage all VMs across Centralized management using vCenter
Fully self-administrated
Redundant, centralised storage (NAS)
Dedicated Gigabit Switch
High availability