Generic Top-Level Domains (GTLDS) – New
New Generic Top-Level Domain Names
The "new Generic Top-Level Domains" are new domain extensions such as .productions, .guru, .ceo, etc.  Now for the first time, there are more than 300 new domain extensions you can choose from.  By 2015, there will be more than 600 domain extensions in all.  For more about why and how the new GTLDs are here, please read this blog post.
We are rolling out new GTLDs as they become available.
Full GTLD Price List (continuously updated)
Unlike the older domain names, there are very few qualification criteria to register GTLds
Free Domain Hosting & Mapping  Point your domain (mx, web and all other records) for free
Our DNS manager comes free and allows you to host unlimited domains and map all records for no cost.
See more about how to manage your DNS records here: What You Need To Know About DNS Records
Should you get a new GTLD?
With over 260 million dot com domain names registered, it is now very difficult to get the exact .COM domain name that you want. With GTLDs, there are still very good odds that you can get short, direct and relevant domain names that represent your business well.
Here are some examples of how to use the new domain name extensions intelligently.
Real Estate / Property
Didn't get YOURFIRM.COM?  Check for YOURFIRM.PROPERTIEES* – it's very likely to be available.
A .properties or .condos domain names gives a better impression of the product or work that you do.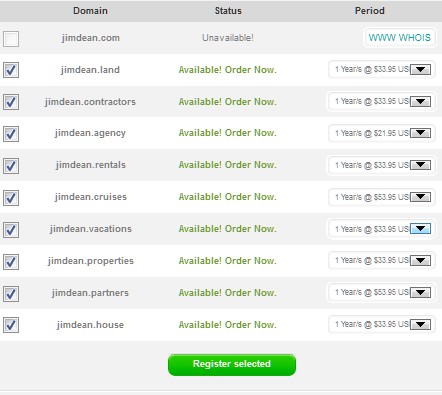 Here are some Real-Estate-related Suggestions
.properties .condos .house .estate .land .villas .rentals .zone .vacations .maison
.agency .management .partners .services .contractors
.guru .expert .today .tips .marketing .ceo
Business Services
Do you provide business services and have a common name? For example, were you able to register Mediagenius.com? Well, MEDIAGENIUS.SERVICES is available.
Here are some domain extensions you should look at.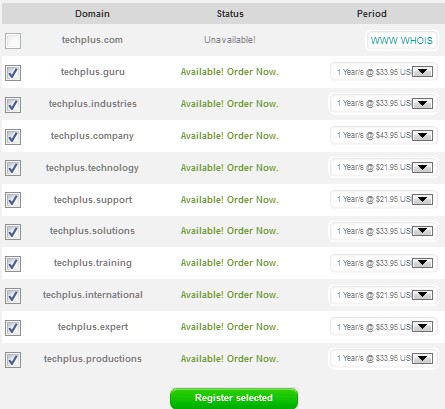 Domain Suggestions if you provide Business Solutions
.ventures  .holdings  .enterprises .international .foundation
.services .systems .company .technology .support .solutions .training .productions
.institute , .academy, .camp, .center, .education,
.club .marketing .zone .expert  .community  .vision .report, .directory
Trades
Many new GTLDs directly communicate a business type or business trade.  For example: .COFFEE or .BOUTIQUE.
This gives you a chance both a second chance to get your direct brand keyword, and also communicate your product orservice in your Internet address. For example, where previously you might have had to register LIMTANCOFFEE.COM, you can now register LIMTAN.COFFEE *
Communication starts at the URL bar.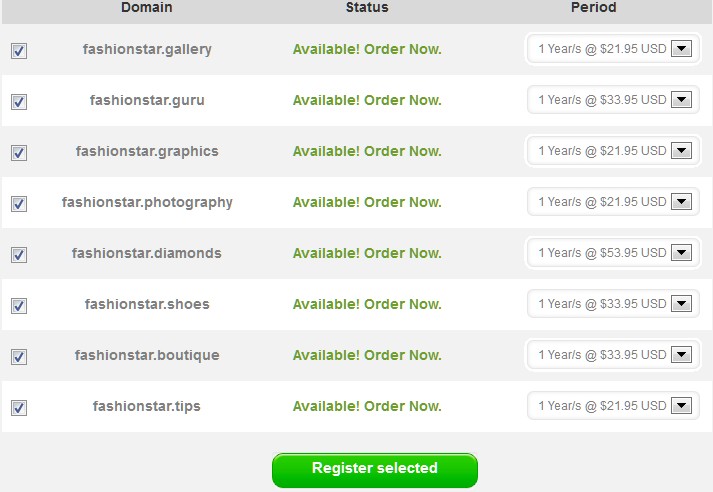 Domain Name Suggestions relevant to Trade.
.BIKE .CAMERA .CLOTHING .COMPUTER .EQUIPMENT .ESTATE .GALLERY .GRAPHICS .LIGHTING .PHOTOGRAPHY .PLUMBING.CONTRACTORS .TECHNOLOGY .CONSTRUCTION .KITCHEN.DIAMONDS .SHOES .CAREERS .PHOTOS .RECIPES .LIMO .DOMAINS .CAB .ACADEMY.BUILDERS .EMAIL .EDUCATION .REPAIR .CAMP .GLASS .SOLAR .COFFEE .FLORIST.FARM.BOUTIQUE .WATCH CATERING .CARDS .CLEANING .TOOLS .INDUSTRIES .PARTS .SUPPLIES .SUPPLY .REPORT.FISH.WEBCAM .XXX,