Cloud Hosting Promotion 50% Off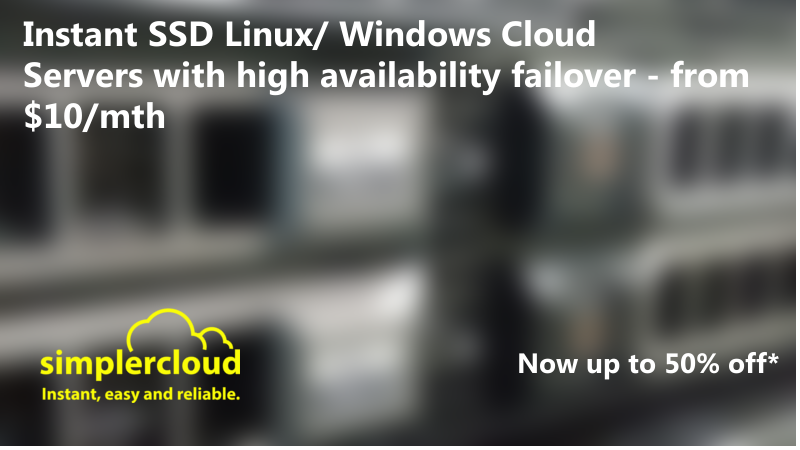 February Special
Valid untill 28 Feb, 2014
With our February Special, you can get savings of up to 50% of the first month of our servelets in our February Specials.  Great opportunity to upgrade or enjoy savings off larger plans with higher computer resources.
Just use coupon FEB-1 to get 25% off Plan XS and S, and coupon FEB-2 to get 50% off Plan M-XXL.  See the full plan prices here.
Our instant SSD cloud servers all come with high-availability failover, snapshot backups and deploy centralized storage for real-time upgrades and downgrades.
General Notes: Speed Test, FAQ, Plans, Ask a Question, Comparison with Virtual Private Servers (VPS)
This special cloud hosting promotion applies to all new plan signups and plans that are upgraded, and the discount applies to additional disk space that is purchased with the plan.
Here are your first-month savings:
First Month Savings with February Coupons
Coupon
Plan
Discount
Desc
Usual Price
With Discount
Save
FEB-1
XS
25%
1GB RAM,20GB Storage, 1 Core
$10
$7.50
$2.50
FEB-1
S
25%
1GB RAM, 30GB Storage, 1 Core
$15
$11.25
$3.75
FEB-2
M
50%
2GB RAM, 40GB Storage, 2 Core
$20
$10
$10
FEB-2
L
50%
4GB RAM, 60GB Storage, 2 Core
$40
$20
$20
FEB-2
XL
50%
8GB RAM, 80GB Storage, 4 Core
$80
$40
$40
FEB-2
XXL
50%
16 GB RAM, 160 GB Storage, 8 Cores
$160
$80
$80
Terms & Conditions
All orders must be submitted through the SimplerCloud customer panel.
All services puchased are subject to our Agreement.
The coupon-generated discount applies to the first month only.  Standard rates will apply for all subsequent months upon renewal.
Valid only for the main cloud hosting plan and not to add-on items, domains or any other service.
These coupons are not valid for renewing plans.
These coupons cannot be combined with any other sponsorship, special arrangement or promotion, unless otherwise stated